Really quickly, let me ask you a couple of questions...
Where is your cell phone right now?
If you're anything like 91% of North Americans, it's probably within arm's reach. Where it always is.
Next question…
What do you do if your phone beeps or buzzes to indicate you have received a new text message? What do you do if it beeps right now?
If you're like the majority of North Americans, you'll pick it up and check the message. You may not even finish reading this sentence before you do.
OK, one final question…
If you could deliver your marketing message directly to your customers' mobile devices, how valuable do you think that would be?

If you said, "incredibly valuable", you get a gold star.

Why?

Because the vast majority of your customers – regardless of your business or the demographic you target – have a cell phone. Because over 95% of text messages are opened and read, usually within a couple of minutes.
Think about that for a second.
Today, cell phones aren't merely communication devices. They are day timers, calendars, entertainment hubs, links to emails and Facebook, a vital connection to our children and their schools – in short, they are indispensable companions. And they never leave our sides.
As a business owner, why should you care about this?
Because this "connection" is the reason why text message marketing has already been embraced by 1,000 of business owners in North America. It's the reason why delivering your marketing message directly to your customer's cell phone dramatically outperforms marketing via email, print, television, radio and social media (for example, mobile coupons have a redemption rate 10X that of coupons delivered in other manner).
In other words, if you want to know that your customer has seen and acknowledged your message, you send it to her cell phone, where your message does not have to compete for her attention. For a few seconds, you have her complete and undivided attention.
Bottom line?
Marketing directly to your customers and prospect's mobile phones makes you more money.
It's the quickest and most cost effective way to boost your revenue, increase repeat visits, enhance your brand, and strengthen relationships with existing customers. Marketing via text messages can generate a 300-500% increase in response rate over traditional advertising. And that's true whether you run a big box store, a single owner/operator business, and everything else in between.
"How does it work?"
You choose a word to be associated with your business. We call this a "textword", because it's the word your customers and prospects will type into their phones and send as a text message to your short code (which is a short, 5-digit telephone number used for the relay of text messages). If you owned a pizza parlor, for instance, you might ask your customers and prospects to...
"Text PIZZA to 41932 to receive exclusive offers and discounts direct to your cell phone."
Once they have done that, their phone numbers are entered into your database on our system. Then, at any time, you can login to our simple interface, type out your marketing message and send it directly to their cell phones. Obviously, our service boats some pretty impressive features, but in a nutshell, that's how it works.
"How do I get my customers to subscribe?"
The best way is to offer an incentive and a promise to provide exclusive content. PayLess Shoes, for example, offers a coupon for 20% off your next purchase, plus access to exclusive discounts and savings. There is incredible value to being able to reach your customers and prospects on their cell phones, so giving something away as an incentive is the best strategy for attracting new subscribers.
"What if they don't want to?"
If you have the right incentive, most people will be interested in your service, provided they understand that their data is secure, that you won't spam them (we recommend sending 2-4 messages per month, no more), and that ultimately they control their subscription and may unsubscribe at any time.
"I dunno. It sounds scary."
Leaders lead. Followers follow. I don't know how to put this delicately, but text message marketing is coming. You can either be first, or you can try later to wrestle back some of the market share you lost to your competitors who are embracing this opportunity as we speak. It's much easier to be first. There's a reason why more and more business are jumping on the text message marketing bandwagon. Don't get left behind!
"It must be expensive. I can't afford this!"
If you can't, you better stop reading this and get back to work, because your business is in really big trouble. An entry level package on our service costs less than the cost of a cup of coffee per day. And I'm not talking about some "café latte frappe" that's two stories high, garnished with chocolate shavings and half a cup of whipped cream.
I'm talking just over a dollar. $34.99 per month, to be exact.
That's $1.16 per day!
A more robust subscription will set you back a bit more; $69.99 per month. Or $2.30 per day. What's it cost to run a single ad you'll run in your local newspaper?
"Do I have to sign a contract?"
Nope. Our service runs month to month. Cancel anytime from within your account. You don't need to call anyone or email anybody. No headaches or hassles.
"I'm not really good with computers!"
A lot of business people are too busy running their own businesses to be computer engineers. I get that. Our system is incredibly user friendly – if you are reading this, you have all the skills you need to operate our system. We provide in context help and simple guidance throughout the entire tool, plus videos and instructional guides, so you will never be lost, or unable to complete a task quickly and easily. You will be up and running with your own service in 5 minutes or less, you'll see. And of course, should you ever need us, we're only a mouse click away.
"I don't have time."
Pardon me for being so forward, but isn't part of your official job description as a business owner to be searching out the opportunities that put more money in your jeans, but require less of your time? What are you working for, exactly? Wouldn't you like to have some extra time for yourself and your family? Or some extra cash for an unexpected emergency? If you had the opportunity to spend 20 minutes a month to boost your revenue by 10% would you do it? 20%? 30%? Of course you would. The truth is, time really isn't a factor at all, is it?
The truth is…
It sounds too good to be true.
Text message marketing is new to you and you're hesitant about new technology.
You don't know me from Adam.
I get it.
But it's important you get your hands on this technology now. Before your competitors do. So to show you I am really serious about empowering all businesses with this incredible opportunity, here's what I'm going to do…
I am going to completely eliminate the risk from your purchase. Check this out…
For a very limited time, I am going to let you experiment with a free, 30-day trial to our Silver level membership. Just use the coupon code 76405 when you check out.
You Heard that Right… FREE!
If at any time within that 30 day period, you don't see the incredible potential of text message marketing, just cancel your account, and you won't be charged. That's my promise to you.
Ok, that's good right?
But here's something better. Way better. Something no one else anywhere is doing.
6 Months Money-back Guarantee!
I'm going to guarantee your satisfaction with a full, money back guarantee. Not for an additional 30 days. Not 60. Not even 90 days. I'm going to provide a full, money back guarantee for the first 180 days that you use our service – that's 6 whole months!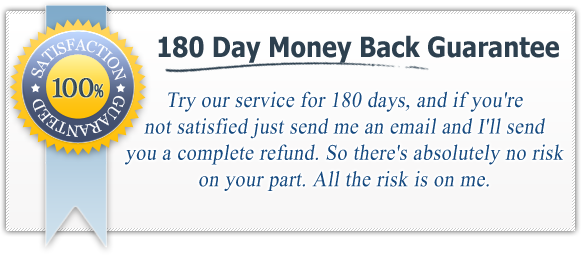 What's that mean in practical terms?
Sign up for the limited time free trial offer today. Like, now.

Use the first free 30 days to ramp up your campaign. Then, over the following 5 months, implement the strategies and tactics we teach in your business. If, 6 months from today, your business has not reaped a significant benefit – measurable by whatever benchmark you care to apply - or you're not happy for any reason at all, drop me a line and I will refund every penny.
Am I crazy?
No. And I don't play anyone crazy on T.V. either.
I make this offer for two reasons…
I am extremely confident that text message marketing can make a world of difference to your business. I know that if you try our system and put text message marketing to work for you, you will become a satisfied customer.
It's the ultimate demonstration of confidence in our solution, our service, and our system.
So there you have it. That's what I've got for you. You won't find anyone anywhere making a similar offer, or offering a similar guarantee. I'm taking all the risk. You have nothing to lose, and everything to gain.
Order today to avoid disappointment!

P.S. Don't put this off. The longer you delay, the more likely you will lose out to competitors who may already be implementing similar strategies. Don't book mark us! Don't come back later. There's absolutely no risk. Order today and take advantage of this limited time offer! (Remember that coupon code, 76405).
P.P.S. The Better Business Bureau logo and our A+ rating is a testament to the fact that we are a credible, ethical business that stands behind its guarantees! There is no risk in a purchase!
P.P.P.S. Still not sure? Don't leave empty handed.Download this free whitepaper to learn more about why text message marketing is perfect for your business!
Hoping to be receiving confirmation that you decided to take me up on my offer!
All the best,