Did you know you can get more real estate leads with our mobile marketing service?
Because you need more of them. Everybody does.
But if valid, high quality leads were that easy to come by, everybody selling real estate would be rich. That's not the case. So forget about buying them, if that's what you were thinking about.  There's no way to know just how credible they are, or how many times the same names have been sold over and over and over again.
So how do you get more "genuine" real estate leads?
The simplest way and most cost effective way is to…
Make it easier and more convenient for prospects to connect with your listings.
How do you do this?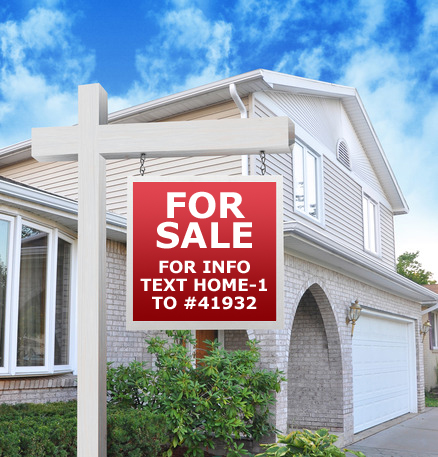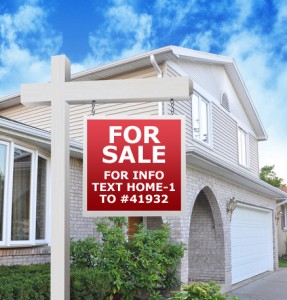 By including a text based call to action on your listing signs – like one illustrated in the picture on the right.
How Well Does it Work?
In a case study published at MobileMarketer.com, Coldwell Banker used text message marketing for half their listings in Pittsburg, PA, and accordingly, generated over 94,000 web site visits, allowing them to conclude that individuals are happy to use their phones in the home buying process.
In the case study, George Hackett, President of Coldwell Banker's Real Estate Services in Pittsburgh is quoted as saying…
"This technology gives buyers immediate and comprehensive information about our listings in a very convenient way, and gives our sellers a truly competitive edge in attracting potential buyers."
Why Does it Work?
In a nutshell, because of people`s close connection with their mobile devices. Let's face it…
Cell phone saturation is close to 100% in North America.
Over 92% of people between the ages of 18-46 have a cell phone.
Approximately 99% of text messages are opened and read, most within 3 minutes.
91% of Americans have their cell phones within arms' reach 14 hours out of every day.
By providing your prospects wth the ability to to easily interact immediately with your listings on their always-accessible mobile devices, you will increase the number of leads your listings generate. This is echoed in another article from Mobile Marketer (see the highlighted excerpt below)…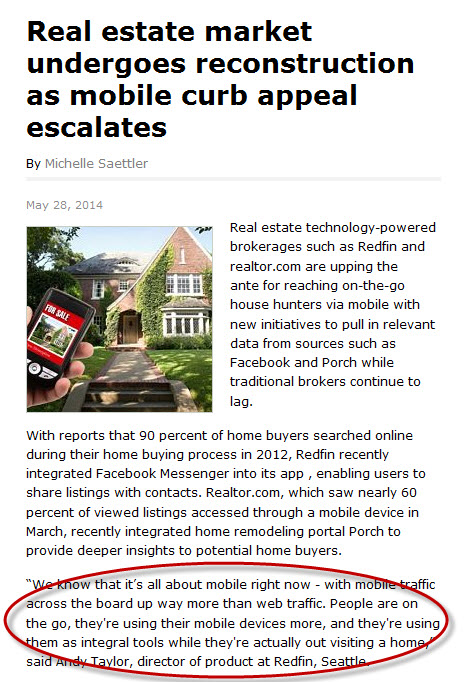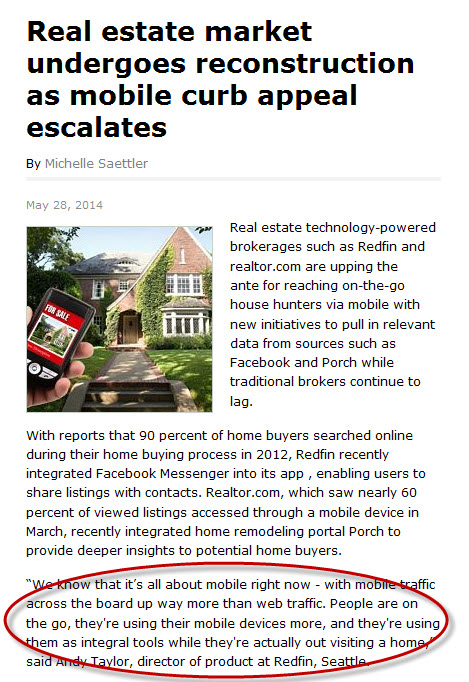 How Difficult is it to Implement?
We get it – you're a realtor. Not a computer technician. And time is of the essence for you, like it is for all of us. Local Text Marketers' service is simple to use; it takes about 10-15 minutes to learn how to set up your listings, and about 2 minutes to set up each listing after that.
No time?
Train your assistant to do it for you! Or connect with us about a managed service!
What Does It Cost?
Local Text Marketers' service is very affordable; access to the Lead Generator™ module – our proprietary functionality designed specifically for the busy realtor / real estate professional – becomes available at the Silver level membership, which costs $US69.99 / month. This entitles you to add mobile data to up to 10 individual listings – which means each listing costs you just under $7.00 per month. Your only other cost will be your "toppers" (the call to action signs that appear on your listings), which can run between $8-$12 apiece, depending on where you get them done. Your toppers move from listing to listing, so as long as they remain in good shape, you don't need to have new ones created when you list new properties.
You may hesitant to believe such a service is available for such a low cost. In reality, we want to ensure this sort of technology is available to everyone, not just those who have the financial wherewithal to spend hundreds or even thousands of dollars per month. Yes, we could charge that much – and frankly, it would be worth it. But we'd rather make our money on volume and make this opportunity to everyone who wants it.
And, you always have the option try our service for free to evaluate it before you commit to subscribing.
Why Should I Bother With Mobile Marketing for Real Estate?
In a nutshell…
Because that's where the industry is headed. Because failure to capitalize on the potential of this medium early on means you will lose out to your competitors. Mobile is coming… rest assured. The question is, do you want to be a leader or a follower? It's much easier to get in "ahead of the curve" than to try to play catch up later.
What are the Keys to Success?
They are pretty straighforward…
Implement a mobile call to action on as many listings as possible – especially entry level homes – since millenials (people born after 1980) are the group most comfortable with mobile technology and most likely to respond to a text based all to action. Do not implement on a single listing only, since inenvitably some homes generate more interest than others. If you use mobile on the wrong home, you may come to the erroneous conclusion that mobile marketing for real estate does not work. In truth, you need more data to evaluate its performance.
Make sure you deliver something of value to your audience when they subscribe to learn more about a home.
Be consistent. Make a commitment to implement this marketing channel over the long haul.
Follow up with subscribers with information on similarly priced listings in the same geographic region. This is one way to ensure no lead is ever wasted.
Bottom line?
Implemented properly, the right service can generate more real estate leads for your business! We can help with that!
Call us today at 800-378-8507 or contact us here to learn how Local Text Marketers™' service can take your real estate business to new heights!