Municipalities and Townships Face Challenges
Municipalities and Townships face a number of technical and logistical challenges when it comes to connecting with a large number of citizens efficiently to notify them of critical alerts, warnings and emergencies in their community.
A hodge podge mix of social media, local media, word of mouth, email, phone calls is used to "get the word out", often in conjunction with the mobilization of law enforcement, emergency personnel and volunteers to knock on doors.
This is inefficient, hugely expensive, and very slow!
Without a technical system in place to allow for timely, efficient mass communication, people invariably "fall between the cracks".
For example…
Suppose a water main breakage requires citizens be notified of a "boil water advisory."
Failure to connect with your citizens quickly may expose your community to health risks.
The elderly and the very young are especially vulnerable.
If this wasn't bad enough, there are always potential legal liabilities that accompany such unfortunate incidences.
Mass Texting Is The Solution
For an increasing majority of people, cell phones and mobile devices are not only the primary form of contact, but the preferred form of contact.
Statistics reveal a startling attachment to these devices as well. For example, the average person…
Checks their cell phone 110 times per day.
Has their phone within arms' reach 14 hours out of every day.
Is comfortable and familiar with texting (over 90% of people use it regularly).
Opens and reads between 95-99% of all text messages, the majority within 3 minutes.
Clearly, there is no device that people are more intimately connected than their cell phones.
The benefit of using text messages to connect is even more clear…
Unintimidating familiar technology.
Does not require software installation or downloads.
Works with phones long considered obsolete.
Does not require smartphone or dataplan.
Doesw not require a specific phone or operating system.
In a nutshell…
Connecting with a large volume of people via text message, directly to their mobile devices is the key to ensuring vital correspondences are seen and acknowledged.
Better yet, mass texting is super-fast, highly efficient, and extremely affordable.
Connect with Staff Members, Road Crews, Volunteer Fire Fighters and Volunteers
Mass texting can also be used for efficient, "in house" messaging as well; whether that's send alerts to road crews and municipal workers, volunteers or fire fighters, the mobile messaging "channel" delivers vital messages instantly, affordably, and efficiently.
Self-Managed Service Puts YOU In Control
The power of the service lies with its flexibility.
You control the messaging. You send messages when and how often you need to.
With our super-easy point and and click interface, simply login to your account, type your message, click the "Send / Schedule" button, determine whether you want to send your message immediately or some time in the future, press "Send" and that's it.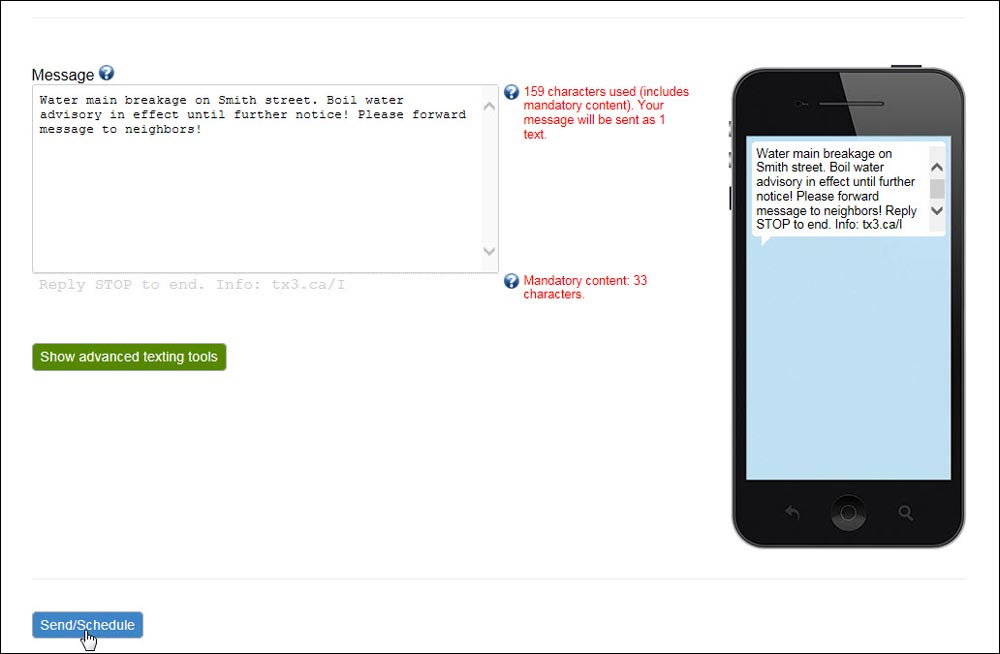 Within a few minutes, your message will be popping up on your contacts' cell phones and mobile devices.
This control is crucial to you. Emergencies are always unannounced. You need complete control over your messaging. And you do.
Why Not Just Send an Email?
Simply?
Because emails are missed. Ignored. Filtered.
Sure, some people will be able to pick them up on their smart phones, but around 30% of people still don't have them, and of those who do, many have minimal access to the Internet because of the high cost of data.
Accordingly, the next opportunity for exposure to an email will be the next time they check their account on a desktop or laptop. That could take days.
Bottom line?
Email is fine for non-critical updates, but for critical ones, texting wins hands down.
What About Spam Laws?
The Local Text Marketers' service is 100% compliant the spam laws in Canada and the United States. If you look at the picture above you'll see this message is appended with our Canadian compliance messaging, "Reply STOP to end. Info: tx3.ca/l".
The first section provides instructions on how to remove yourself from this list so you won't receive further communications.
The second is a link to a mobile responsive web page that indentifies where the information is coming from – or in other words, provides the identity of the sender. This information is required by Canada's Anti Spam Legislation for full compliance. And we append it to every single message that is sent from our system so that is never a concern.
How Do People Subscribe?
Very simply. They text – in other words they physically type in on their phones – a short word (called a "textword" or "keyword") and send it to a 10 digit number that's unique to your account.
For example…
"To receive critical alerts and emergency updates from XYZ municipality, text the word XYZ to 705-287-7895."
What Sort of Adoption Rate Can I Expect in my Township / Municipality?
This is going to depend entirely on how effective you are in informing your community about your new notification service.
Promotion should be an on-going thing; all correspondence and promotional material should highlight the service and invite people to subscribe.
Remember, no service or technology on the planet is going to connect you with 100% of your audience.
The good news is that it doesn't need to; people will spread your notifications throughout their own personal networks, which allows you to vastly increase your reach!
Flexible Pricing. Friendly, Canadian Service (Eh!)
We offer competitive, flexible pricing plans and will be happy to work with you to put together a plan that works for you and your community!
Call us for details: 877-403-2403
Or connect via email: Click here!