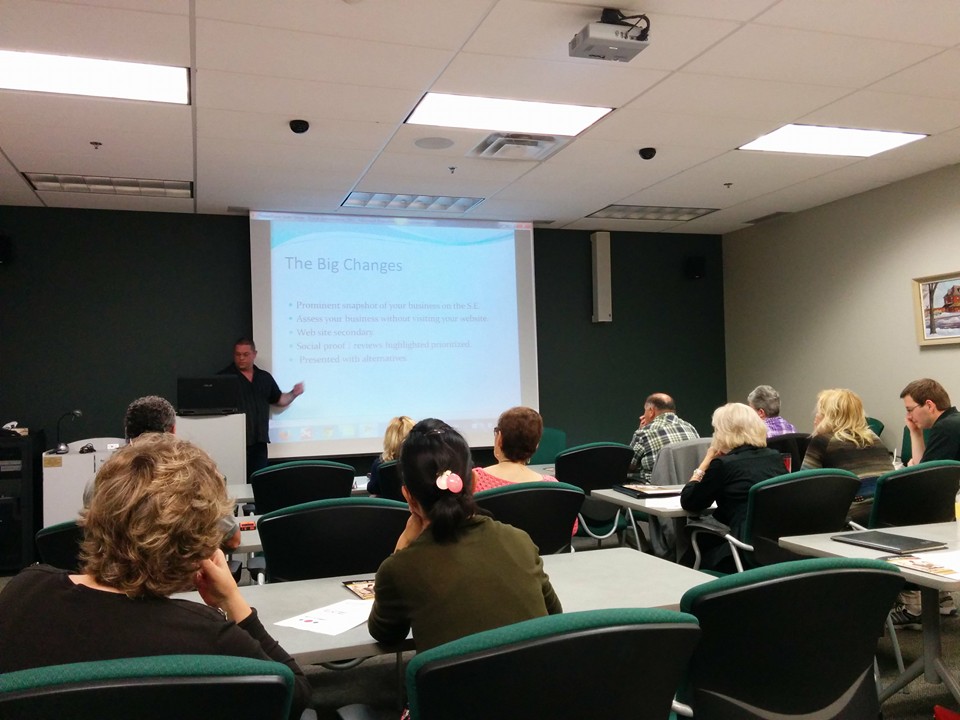 Latest Seminar a HUGE Success!
I wanted to write a quick post thanking those of you who came out to my latest seminar held on Sept 29 at Quinte West City Hall, 7 Creswell Dr, Trenton, Ontario.
The two-hour seminar was entitled, "The Local Search Revolution; Your Business and the Changing Search Landscape." It was by far the best received seminar I have done to date, and I will be doing it several times again in the next coming months.
Why is Search Suddenly More Important to Local Business Owners?
In a nutshell, because more and more people are using search engines (primarily Google) to both find and research local businesses with which to do business.
That's right; local busineses. Businesses within a 20-30 walking or driving radius.
92% of people do so at least occasionally, in fact. There are a number of reasons people are migrating online to find businesses instead of leafing through their "ever-dimininishing-in-size" Yellow Pages including…
More current information.
More convenient.
More comprehensive.
Mobile access – can access from anywhere!
Easier to access.
Social proof: Customer reviews and feedback.
No telephone directory
This migration to the search engines to find local businesses is only small part of the discussion.
Google's Changes to its Results Page Could Cripple Your Business
Under normal circumstances, the ramifications of an increased number of online searches for local business would should be…
An increased emphasis on obtaining top search engine rankings for your most important keywords and keyword phrases, so that your web site is the one that shows up in one of the top positions for prospects doing a search for your business or its products or services.
Perhaps setting up an Adwords account and bidding on important keywords for which your web site does not rank.
Performing a thorough review of your web site to ensure it does as good a job as possible at conveying your message, establishing trust and credibility, and getting a visitor to connect with you.
But these are no ordinary circumstances.
Why?
Because Google is making big changes to improve its users' overall search experience ("users" are the people performing keyword searches at Google. Not you or your business).
And these changes have the ability to dramatically impact your business' ability to compete in an online environment.
What Local Search Looks Like Today
To demonstrate what I mean, let's do a search for a local business (I'm going to choose a popular local Italian restaurant). Take a close look at the right hand side of the search results page…
Notice how your eye is immediately drawn to the right hand side of the page, away from the "organic" search listings?
Away from the business' web site listings?
Trust me, this picture doesn't do it justice. When you do a similar search on your own computer you'll see what I mean.
Essentially, Google is providing its users with a way to evaluate your business without having to visit your web site.
It's providing a quick and dirty overview of your business, complete with highlighted social proof (i.e., the orange "star" rating), a couple of customer reviews, and some alternative businesses, should the user not like what she sees here.
On a mobile search, this information is compressed, but still appears prominently, above the "organic" search listings…
What Are the Implications of These Changes By Google?
This should concern you.
A lot.
First of all, Google is potentially drawing customers away from your business and pointing them elsewhere.
In the "old days", your customer or prospect would perform a keyword search to find either your business (i.e., search for your business by name) or a general keyword search to find your product or service (i.e., "plumber Montreal", or "wedding flowers Trenton").
She would then find a list of local web sites related to her search. She would review those sites, make an assessment of their offerings and their credibility and "trustworthyness" and pick up the phone. Or drop by.
Now Google has made this entire process unnecessary, by displaying a "snapshot" of the business and the information it believes is most important, or, if you do a general keyword search (i.e., "plumber Montreal", or "wedding flowers Trenton"), a "3-pack" of businesses it believes are the most relevant…
Not in the 3 pack?
You're definitely losing out on local traffic.
The Impact of Poor "Social Signals" on Local Business
These changes can be devastating to local businesses, especially if the social proof and highlighted reviews are poor.
And here's the thing…
Many businesses are not managing their online reputations, so their social proof IS poor. Because poor experiences tend to generate more reviews than average or "good" ones, it's entirely possible that the few reviews a business does have are not complimentary.
This gives prospects the perception that the business is an inferior one that does not care about its customers and clients.
In reality, this is very unlikely to be the case.
99.9% of the time, a few isolated incidents – sometimes these span several years in time – have given rise to a handful of poor reviews, and, since the business owner is not being proactive about responding to these reviews and soliciting positive ones from raving fans, an artifically poor rating ensues.
But guess what?
For those prospects who do not know you, your online reputation is one of the most important criteria they have to judge the quality of your products or services and if it's poor…
You're in deep doo-doo.
Because they won't bother visiting your web site to learn more about you – you know, to discover that the poor reputation is unjustly deserved.
What the "The Local Search Revolution" Seminar Teaches
This two seminar teaches a number of vital tactics and provides concrete steps on how accomplish them…
Reputation management.
Basic search engine tactics
Building trust and credibility on your web site
Developing a web site "call to action."
The importance of Google Plus for local small business.
Soliciting "reviews" to build your social proof
… and much, much more.
It provides a roadmap for local business owners to be able to capitalize on the growing trend towards online search. It provides concrete "action steps" to maximize exposure and profitability.
This is an incredibly important topic that is rarely addressed.
Hire Paul to Deliver "The Local Search Revolution" Seminar at Your Event
If you run a small business center, BIA, chamber of commerce or any small business networking group in Ontario, Canada, why not consider hiring Paul to speak at your event? Click here to connect and start the conversation today!