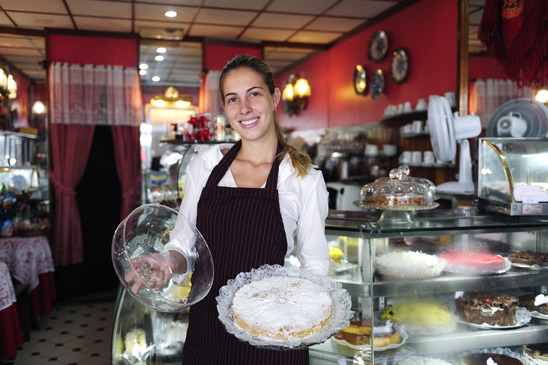 If you're looking for SMS marketing ideas for your restaurant, pub, diner, cafe, eatery, you're in the right place.
And even better news?
You're definitely onto something.
But you already know that.
I'm willing to bet that you're here because you watch your customers play with their phones from the moment they enter your establishment to the moment they leave and you wonder…
"Is there some way I can profit from this crazy connection my customers have with their phones?"
The answer is yes.
Actually, it's YES!
Shouted.
With all capital letters.
One Big Advantage…
There's one huge advantage that business owners in the food service industry enjoy.
And that is?
The amount of time people spend in your business.
Depending on the nature of your establishment, customers may be with you for 5 or 10 minutes (if they're running in to pick up a pizza), or as much as two hours (if they're sitting down to an elaborate meal with friends).
That's a lot of time that you can use to put your message in front of them.
Consider, for example, what happens after they place their orders.
They have to wait for their meals to arrive.
And during that time, what do they do?
Chat.
Check out the promotional offers displayed on the table.
And play with their phones.
Here's where your opportunity lies. It's the all genesis of successful sms marketing campaigns.
But before we discuss this, let's back up just a moment…
Why Use SMS / Text Message Marketing for Your Restaurant, Pub, Bar or Cafe?
I could write a thousand words explaining why, but it really comes down to 3 things…
Everybody texts. And I do mean everybody. According to Pew Internet, even 90% of people over 50 are texting. Under 50, it's virtually 100%.
Almost all text messages are opened and read. Between 95-99% of them, depending on whose data you review. You could try connecting via email, but on average, only 22-27% of emails are opened and read. And Facebook? You can only expect 2-6% of your audience to see your posts. But when you send a text message, you identify yourself as being part of your contact's "social circle", and as a result, your messages are always seen.
An enhanced focus on customer retention – building stronger relationships with the people you already do business with – is smart business strategy. A study published by the consulting firm Bain & Co showed that a 5% increase in customer retention can equate to as much as a 25-75% increase in annual revenue. As a result, investing in customer retention is one of the best things you can do for your business.
So now you know why.
OK, let's get into the nitty and the gritty and discuss some…
SMS Marketing Ideas for Restaurants, Pubs, Bars and Cafes
The general idea of your SMS marketing plan is pretty simple…
Obtain your customer's permission to send them your promotional messages via text message.
Simple.
However, how you execute and present this to your audience is going to depend largely on the nature of your establishment and your audience. And it's important you do this properly, or you can expect little in the way of results.
After all, no one on the planet is going to sign up to be marketed to… after all, would you?
That's why it's essential you…
Establish Trust, Highlight the Benefits, and Craft Your Irresistible Offer!
While text message marketing is incredibly powerful, some people are understandably reluctant to grant marketers and businesses permission to send them promotional messages. There are a number of reasons why this may be…
They don't see the value in the service. When they ask themselves, "what's in it for me?", they can't answer the question.
They don't have a relationship with the business, and therefore there's no established trust.
They're worried about being spammed.
They're worried about having their cell phones charged for something.
They're worried about some sort of privacy breach.
Your job is to address these issues, eliminate all doubt, and provide your customer not only with the tangible benefits of subscribing, but a powerful incentive for doing so!
It's All About Trust
Your first step is ensure your customer understands that…
She is in charge of their subscription, and can unsubscribe at anytime.
Her cell number will never be shared or sold.
She will not be charged for participating in the service, short of whatever fees her mobile carrier charges for sending and receiving text messages (which is almost always free!)
She will receive a stipulated number of messages per week/month from you and no more.
This is normally addressed by posting the standard messaging "disclaimer" message on your promotional materials.
The Disclaimer…
A typical disclaimer looks something like this…
"Message & data rates may apply. Maximum 4 messages per month. For Help, respond Help, to Stop respond Stop."
The problem with this disclaimer is that it is awful.
It's designed to be short and concise enough to fit in a text message.
It also has to address a number of different scenarios that could occur as a result of a person subscribing to a SMS service.
As a result, the disclaimer is a little unclear, and words like…
"Message & data rates may apply"…
May scare the crap out of your customers, because it "sounds" like they may be charged for participating in the service which of course.
With a service like ours, it's not the case.
A Friendlier Version…
So we often recommend that in addition to the standard disclaimer you include something a little more friendly to remove any doubt from your customers' minds…
"We send out 4 messages per month, no more. If you no longer want to receive them, just reply to any of our messages with the word Stop. If you need help, respond with the word help. There is no charge to use this service short of any charges your phone company applies to you for sending and receiving simple text messages. We value your privacy; your phone number is never sold or shared with third parties."
It's also important that your staff understands this as well, so they can confidently address any questions posed by your customers.
Next, it's time to…
Highlight the Benefits
It's important that you work hard to "sell" your customer on the benefit of being subscribed to your SMS newsletter.
It's not enough to say…
"Sign up to get updates on your phone!"
That simply won't do.
You have to "convince" your customer of the value of being subscribed.
So what are some benefits you can use?
Exclusive offers; discounts and offers sent out via text are not presented anywhere else – you have to be a subscriber to get them.
Early bird notifications: Get word on specials before everyone else… and beat the rush.
Special offers: Save money with discounts and coupons… why pay full price when you can save?
Convenience: why search flyers or visit a web site or have to sift through dozens (or hundreds) of emails when you can have our specials directly to your phone?
Don't gloss over this – if your customer doesn't see any value in being subscribed, it's going to be difficult to get them involved.
Craft Your Irresistible Offer!
There's general rule of thumb that pertains to just about everything in life, marketing included…
People are much more interested in doing something for you…
… when there's something in it for them.
And when it comes to SMS marketing for your restaurant, pub, cafe or what have you, it's import you pull out all the stops, and GIVE BIG, before you TAKE.
What I mean by this is that you're going to provide an incentive to your customers as a sort of "ethical bribe" in order to get them to subscribe to your service.
In other words, you…
GIVE.
To get.
GIVE.
Before taking.
What's this bribe going to be? Well, that's up to you. It may be a free appetizer, a discount or a coupon to be used on a meal, a "kids eat free offer", or even a "freebie" of some sort. You may even have to try a few different incentives to find the one that "connects" with your audience the best.

What's most important is that your customers perceive your incentive to be valuable.

A word of warning…

Your incentive is without a doubt the biggest contributor to the success of your text marketing campaign, so think long and hard about this. And don't be afraid GIVE BIG. Remember, once you have your customers' permission to text them, they will see each and every message you send (you can expect a response rate of at least 1000% more than what you could hope to achieve from traditional advertising).

Plus, having a database of SMS numbers adds to the valuation of your business. Up to 10 times what a similarly sized email database is worth.

So it's worth it to give a bit more. You'll get it back. And then some.

If you're unsure what would tip the balance in favor of a subscription, ask some of your better customers for feedback. What would convince them to to do so?

Or use a free survey tool like Survey Monkey to ask your customers online, if you currently communicate via other digital channels like email or social media.
Promotional SMS Templates
What's the best sms marketing template for the food industry?
Good question. Here's a few examples…
Want a free appetizer? Just subscribe to our VIP mobile list. You'll get an instant coupon you can use for a free appetizer, and every week, we'll send you one delicious mouth watering special not featured anywhere else. To subscribe, text…
"Hungry? Sign up to receive our chef's weekly special by text message, and get a free slice of our world famous apple cinnamon pie for free. To subscribe…"
Kids eat free tonight? Sign up to receive our weekly specials direct to your phone, and we'll send you a coupon you can use right now so your kids eat free! To subscribe… "
Simple, right?
The formula I recommend for any sort of sms templates for business is…
GIVE. Tell them what they'll get in exchange for signing up. This is your discount/freebie/coupon, etc.
Tell them why they want to sign up. In other words, outline the benefit(s) (i.e., "exclusive VIP discounts not featured anywhere else sent direct to your phone").
Tell them how to subscribe (i.e., to subscribe text the word, etc)
All SMS templates for business should work the same way, regardless of what sort of campaign you are planning. Try creating some sample SMS marketing messages for yourself and see how you do!
Multiple Clients? Use Multiple Lists…
Suppose you have a lunch crowd and a weekend dinner crowd.
Your lunch crowd works locally, and are always on the lookout for lunch deals and savings. They commute to work, and are rarely around on the weekends.
Your weekend crowd isn't interested in lunch… they come for your dinner specials.
Sure, you could use one database to serve both audiences, but a good portion of your subscribers will opt-out from your messaging. Dinner folks won't want 5 messages through the week about lunch specials they don't care about. Lunch folks won't care about dinner specials.
So how do you best serve these two audiences?
By creating two lists – or databases – and two distinct offers and messaging frequencies. Two typical SMS campaign examples for a restaurant like this might look like…
Your first database is for your lunch crowd and might look something like this…
"Get our daily lunch specials direct to your phone and receive a free appetizer, text LUNCH to… "
People subscribing to this list get 1 message, Monday-Friday morning, highlighting your lunch special of the day.
Your second database is for your dinner customers and might look something like this…
"Get Chef Tony's Saturday dinner special direct to your cell phone and get a coupon for 1 free appetizer, text DINNER to…"
This audience gets 1 message per week, every Friday evening or Saturday morning.
Boom.
Everyone's happy, since they only get relevant messaging. It's cost effective too!
What's the Next Step?
Now that you know what's involved in SMS marketing for restaurants, pubs or bars, it's time to give Local Text Marketers' Mass Texting Service a try.
Any successful SMS marketing campaigns involves a credible, trusted credible partner, and we're that partner.
We're smaller. So we try harder. We're affordable. Our Business level subscriptions (priced at USD$29.99/month) and up contains unlimited keywords/databases at no extra charge so you can accommodate multiple lists on a single account.
The free trial means you can kick the tires before committing to subscribing to the service.
There's really no downside. If you want to capitalize on the power of text messaging for your business, your next step is to take action.
Here's where you can learn more.
Got questions? Want to chat with someone first?
You send us a note here, or call us at 877 403 2402.