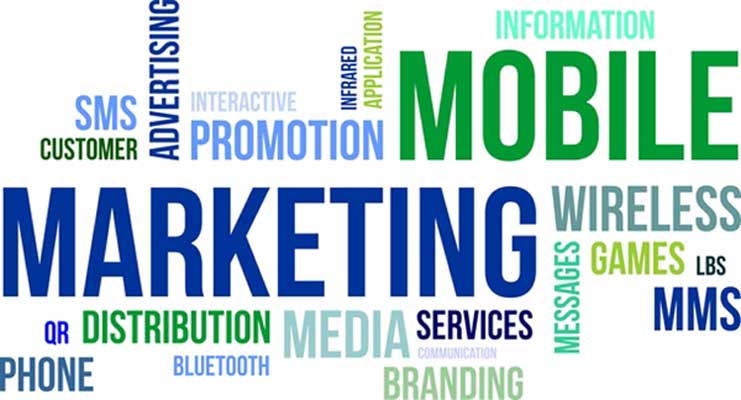 Make More Money; Features of the Best Texting Services
The best texting services can leverage your business, build stronger relationships with your customers, improve the efficiency of your advertising, plus save time and money! And while some services do a great job, others can hamper your business' ability to fully capitalize on texting as a powerful marketing channel.
The following are some of the standard features of the best texting services.
Spam Compliant Message Templates
I routinely get text messages from big box stores that are not compliant with spam laws in either Canada or the U.S. For example, here's a series of messages from big box clothing store, Old Navy…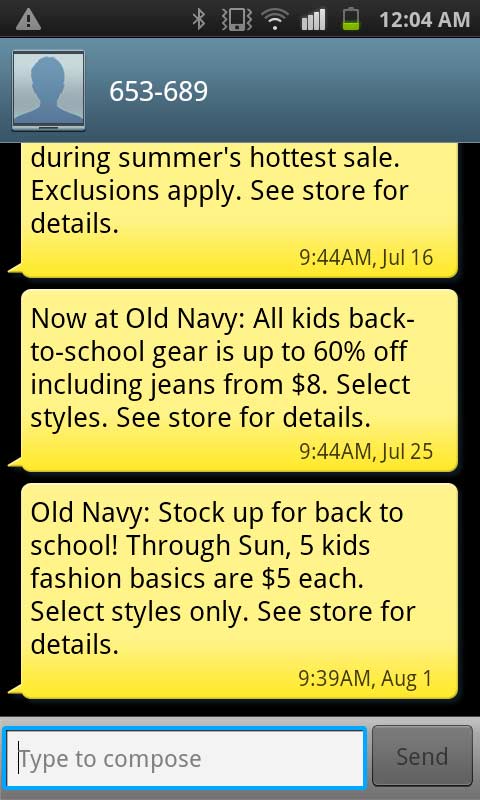 You'll notice that the required "To Stop respond STOP" element of the message is missing altogether.
This critical piece of messaging is absolutely essential for text message compliance!
Non-complaint messaging makes businesses vulnerable to fines from regulatory bodies and class action suits. Their Canadian messaging is also missing the link to the Canada Anti Spam Legislation mandated business information.
What's even more bizarre is the earlier messages from Old Navy did contain the manual unsubscribe instructions…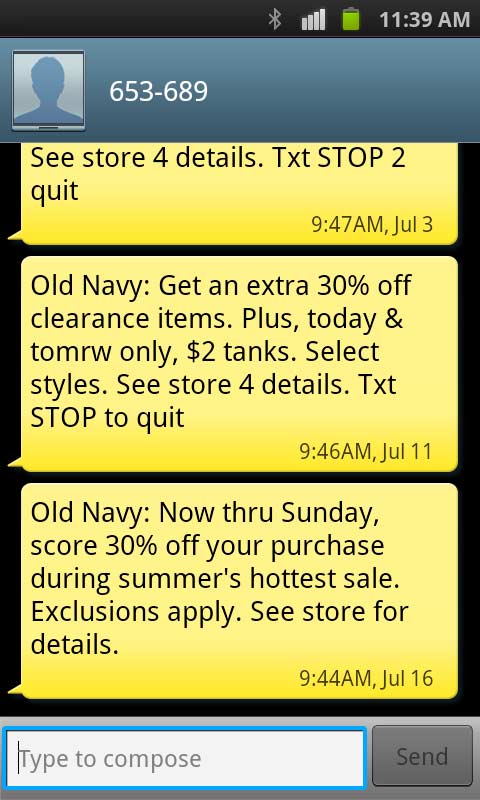 … but after July 16, complaince completely disappears.
So it appears that whomever Old Navy has sending out their messages is responsible for adding the compliance messaging manually, and quite frankly, s/he is doing a pretty poor job of it. In contrast, our texting service has compliance messaging built directly into the template (Canadian template shown)…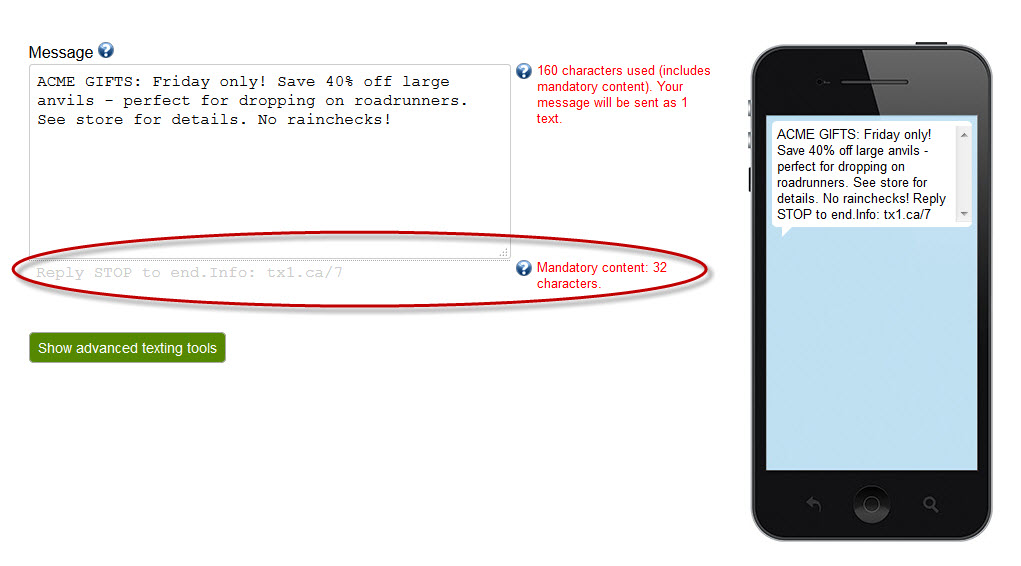 … complete with character account (which is added to your running total displayed on the right hand side).
In other words, there's no way to send a message from our system without it containing the required spam compliance messaging.
This prevents accidental violation of spam laws as well as the potential of damaging of your brand and the alienating of your customer base who no longer wants to receive your promotions.
Best Texting Services offer Business-Oriented Autoresponders
Autoresponders are "automated messages" that are sent as a result of an action – in the case of SMS services, this action is usually a successful subscription request.
Most of the best texting services offer the ability to send new subscribers an autoresponder message and that's great; this message is key to the delivery of the powerful incentives that are crucial to the success of your campaigns.
However, how and when you send that message and what that message contains can make a big difference to your campaigns. And in fact…
Properly designed autoresponders are the key to squeezing more money from your SMS campaigns.
SMS Autoresponder Delay
If you're promoting your SMS opt in program and its incentive in your place of business, you may want to delay the delivery of that incentive by a day or two. This ensures that your customer can only use the incentive on a follow up visit, and not the current one. There's always the possibility that customer will be annoyed by this, especially if she is under the impression her coupon can be redeemed immediately, so it's a smart idea to mention this in your promotional copy. For example…
"To receive an instant coupon for 20% off your next visit and to receive exclusive weekly deals direct to your cell phone, text SHOES to 613 707 8978."
Of course, in order to delay the delivery of your incentive, your texting service has to allow ability to delay your autoresponder, plus it needs to inform the customer that the delivery of the coupon will be delayed (otherwise it will appear like no discount is forthcoming, which will not sit well with your customer).
SMS Autoresponder Dynamic Expiry
Another powerful tool to get customers back into your business to redeem an incentive is to create a sense of "urgency" by using an expiry date.
Often this expiry date is "static."
In other words, it does not change regardless of when your customer subscribes to your service.
So if you have a big sale in December that ends December 24th, there's little urgency created for the person who subscribes December 1.
And that's the problem with static expiry dates – they create the necessary urgency ONLY if a customer subscribes close to the end of the promotion. For everyone else, not so much.
The solution is something we call "dynamic expiry dates."
A "dynamic expiry date" is one that's unique for every subscriber.
It's based upon the date they subscribe.
This allows you to offer unique mobile incentives that expire in exactly the same number of days for everyone, regardless of when they subscribe.
Of course, this means that the offer never really expires – it just means that each customer only gets to access it for a certain number of days.
In our opinion, this is an option that only the best texting services offer.
Here's a screen shot of our autoresponder service, which contains all of these options…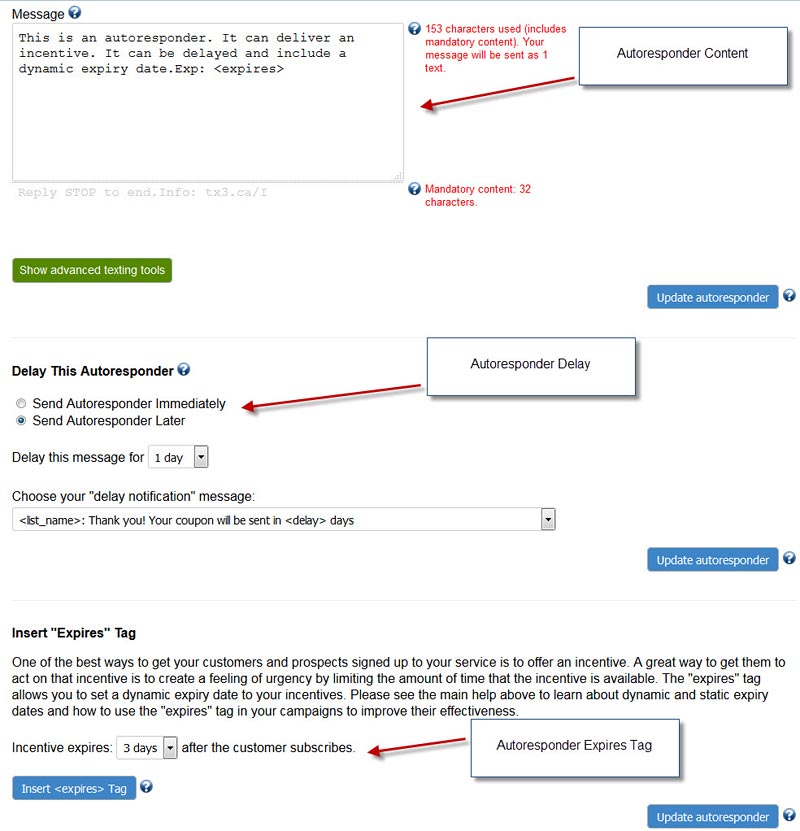 Features of the Best Texting Services: Try Ours!
Now that you've been introduced to a few of the more important features of the best texting services, why not try ours?
We offer a full-featured 14-day free trial of our service so you can put it through its paces.
No credit card required.
Try it. See if it's right for you. If it is, great! If not, no hard feelings… we're not here to sell you hammer if what you need is a saw.
Click below to get started!

Yes, I'm ready to start my "no credit card required" free trial today!