Is it possible that it's SMS Mobile Marketing, not email or social media, that's the ultimate customer retention channel? Well, let's talk about it for a minute…
One thing we all learned very early on in business is that it's critically important to stay connected to existing customers. There's a number of reasons why this so…
People who have done business with you are open to doing business with you again, provided they had a positive experience with your products / service.
It's much cheaper to retain current customers than it is to obtain new ones.
A 5% increase in customer retention can equate to a 25-95% in revenue (*Bain & Co).
In the olden days, it was expensive and laborious to do so – you'd have to build a database of customer addresses and follow up with them via select "physical" mailings or phone calls. Digital media – like email, social media and so forth – have made it easier and affordable to maintain this connection, although quite frankly, the honeymoon is now coming to an end. Not only are people more selective in what services they opt to stay connected with, due to the sheer volume of communications they are bombarded with daily, the real problem is this…
Neither email newsletters nor social media are particularly effective any more when it comes to connecting with you with your existing customers.
Yes, I realize this may run contrary to what you have heard from your marketing consultants, so bear with me a moment or two…
Customer Retention: The Trouble with Social Media (FaceBook)
When most business owners talk about using social media as a customer retention channel, they are usually talking about FaceBook. FaceBook is the "king" of social media. It has around 1.2 billion users, give or take, and it outperforms every other social media platform by a wide margin when it comes to all the metrics that matter. Sure, you may have a Pinterest account and maybe play around with Google Plus, but FB is the 800 lb gorilla in the room, and my experience, where most businesses are focused.
You may have viewed FaceBook and social media as engagement platforms, not retention platforms. It's immaterial. You are engaging your customers on social media so you can build a stronger relationship with them so that you can retain them as customers.

Bottom line? It's ALL about retention!
And the problem with FaceBook comes down to one thing… declining organic reach.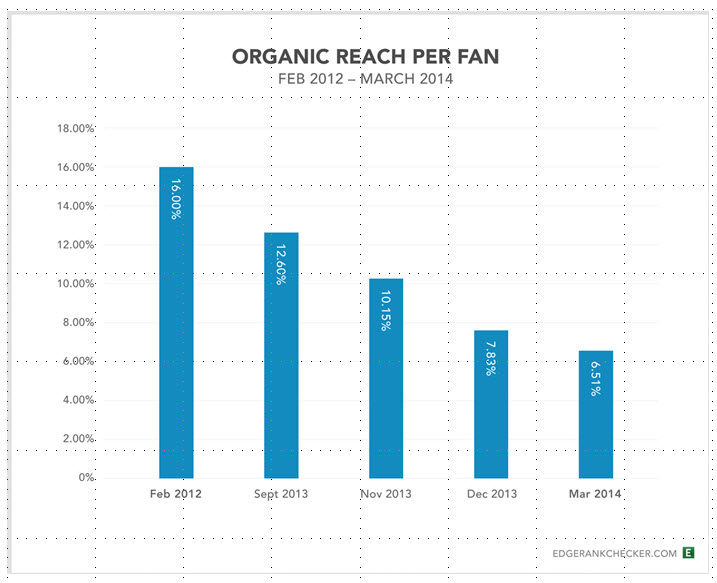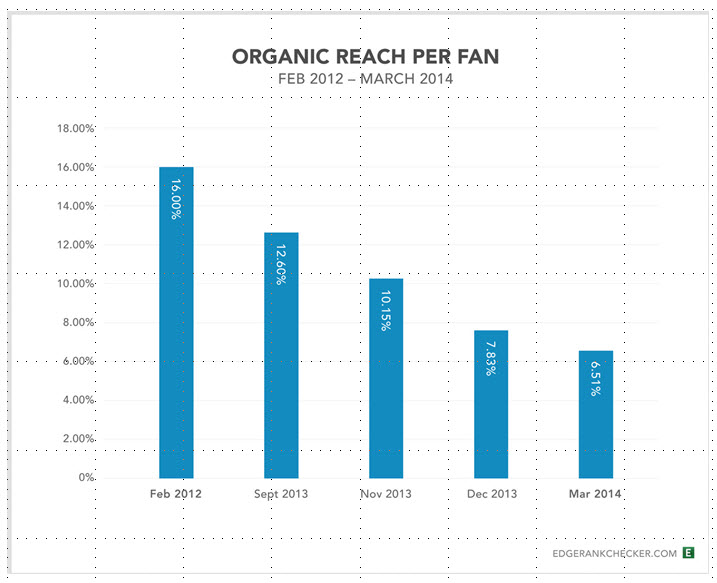 What's "declining organic reach"?
Essentially, it's the number of fans who receive free exposure to your business' posts and updates in their newsfeeds. If you've notice this number has plummeted in 2014, you're not alone! And if you're a large brand with a lot of followers, you've been "hit" even harder, as the following chart shows…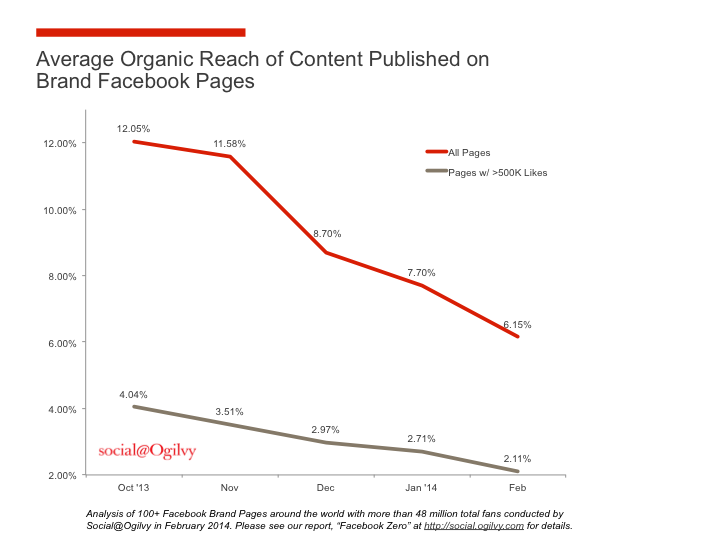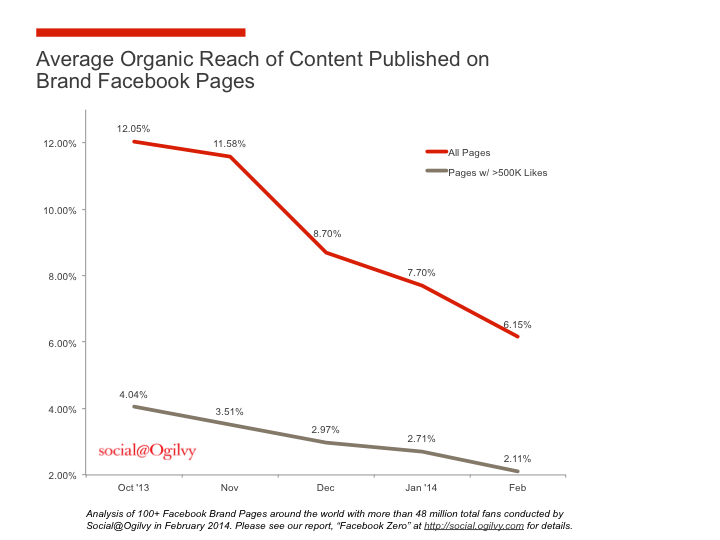 Even worse, Facebook is on record as saying that organic reach will one day reach ZERO.
With an organic reach no hovering between 2-6%, that means between 94-98% of your business' fans are not being exposed to your messages.
So much for customer retention.
And all those "Likes" you worked so hard to get are worthless to you… unless you're willing to advertise to reach them. And if you're advertising, you need a ROI (return on investment) and a ROI is tough to acheive on FaceBook because in general, social media is not where people go to buy stuff. It's where they go to socialize.
So now, the medium you worked so hard to use as a customer retention platform is no longer working. What can you do? Well, you could focus on other social media platforms, but frankly, none have the reach and audience of FaceBook and there's no guarantee they won't move to some sort of paid model down the road.
What about email?
Customer Retention: The Trouble with Email
15 years ago, when email was fresh and new and novel, and people didn't get a million of them every day, you could count on your email newsletter being read. Now, the industry average open rate for email newsletters is about 27%, which means 73% of people who you have gone to the trouble of getting subscribed are not reading or seeing your newsletter. That's right… although the numbers vary slightly by industry, on average, you are only remaining connected with 1 quarter of your audience.
Bottom line?
Neither social media nor email are particulary great channels to use to stay connected with and to retain your customers!
And they are just getting worse.
So what's the solution? Introducing…
SMS Mobile Marketing: the Ultimate Customer Retention Channel
Why does SMS mobile marketing or marketing with text messages offer such a benefit over both social media and email?
The answer is simple…
The read rate.
A study by Single Point showed that 99% of text messages are read, the majority within a couple of minutes.
So in other words, if you…
Publish a post to 100 people on FaceBook, between 2-6 of them will see it.
Send an email to 100 people, 27 of them will open and look at it.
But if you send a text message to 100 people, 99 of them will see it!
Yes, you still need to get your customer's cell phone numbers, but this is really no different than getting their email address or having them "Like" you on FaceBook.
Clearly, when you consider how engaged north Americans are with their phones (*91% of Americans have their phones within arm's reach 14 hours out of every day!), mobile is the channel you need to use if you want to engage with them.
Yes, there are limitations when you are communicating with text, as they are limited by character size (136 in Canada, 160 in the U.S., although our service allows you to expand your message into a second or third text if necessary).
Thus, it's important to take a different tact with sms / text mobile marketing. With such messages it's all about the "call to action". There's no space for flowerly language and niceties. This is about providing a benefit; giving something, offering something, or leveraging an additional channel – like social media or email marketing, for example (click here to read the article "What Can You Say in 136/160 Characters?" for more about effective text message marketing!)
And how does your customer feel about this?
Your customer appreciates brief messages. After all, they are not an imposition – they take seconds to read after all, and they get your message quickly and efficiently.
I hope at this point you are interested in learning more about text / SMS mobile marketing and how you can use it as a customer retention tool for your business.
If you are, click here to learn more about how it works, click here to read about its benefits, click here for some practical examples of how it can be used in your business, and finally, click here to try our service free!
*Morgan Stanley