SMS Marketing for Retailers: 9 Ways to Skyrocket Sales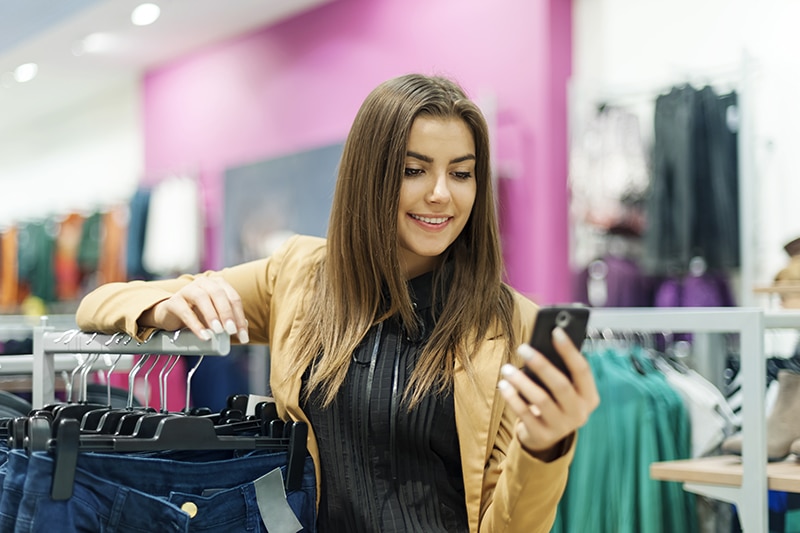 Introduction
SMS marketing can transform your business.
That might sound like a bold statement.
However, when you consider that…
97-99% of text/SMS campaign messages are opened and read (vs. 17% for email campaigns and even less for social media).
Engagement is massive. Conversions with text messaging can be as high as 45% (source: SalesForce) and click through rates run from 15% and up (Source: Paddle.com).
… it becomes much easier to accept.
In this article, I'm going to show 9 different ways your business can use text message marketing to grow your business – both directly and indirectly.
Let's get started…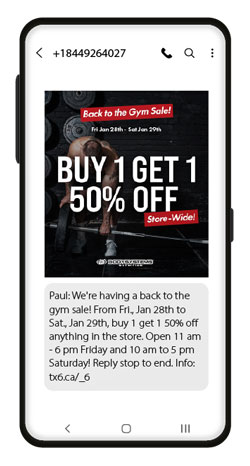 1. Promote Sales and Discounts
By far the most common use of SMS marketing to drive sales and revenue is to use it to send promotions and discounts to your customer base.
Because promotions sent by text message are delivered quickly and read almost immediately, this channel is ideal for time sensitive promotions, flash sales and limited time offers.
MMS – which stands for multimedia messaging – see the combination of image and text in the images on this page – can be even more effective at driving sales, due to the way we humans absorb visual information so easily.
2. Solicit Google/Yelp/Facebook Reviews
It's not what you say about your business, it's what your customers say that has the greatest impact on a potential new customer.
Known as "social proof", unbiased 3rd party reviews posted on sites like Google, Facebook and Yelp (and many others) play a huge role in generating new business. 
In fact, 93% of consumers read online reviews before deciding to make a purchase (Source: Trustmary.com). 
Ultimately, having reams of overwhelmingly positive reviews can make a huge difference to your efforts to generate new business.
Unfortunately, most businesses aren't proactive in soliciting these reviews.
Luckily, that is easily resolved with text message marketing – it's great channel to ask your most passionate customers to share their experience about your business/brand.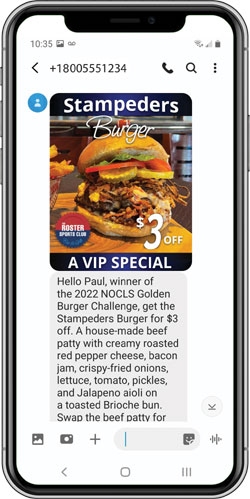 3. Generate Customer Referrals
An easy way to generate even more results from any text messaging campaign is by encouraging your customers to forward on your offers on to friends, family and colleagues who might be interested!
Not only does this boost sales and revenue, it introduces your business to new people.
4. Survey Your Audience
What's the best way to ensure your customers are happy and you are addressing all their wants and needs?
What about determining whether there are other products or services that you can sell them?
Easy.
You ask them.
Sending a text message with a link to a customer satisfaction survey is a great way to implement this strategy to its fullest.
Tailoring your offerings to the specific desires of your ideal customers is a fantastic strategy for boosting repeat sales and visits.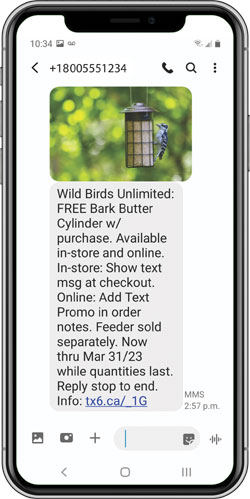 5. Boost Repeat Sales and Customer Loyalty
Marketing regularly with SMS offers many benefits, but this one is especially powerful…
… Because virtually all text messages are read, it keeps your business "front and center" in customer's mind.
As a result, it is your business they think of when they need what you offer.
In addition, because texting is an extremely personal communication channel, and because text message campaigns are easily personalized to feel like direct, one-to-one communications, they build customer loyalty and goodwill.
Marketing to your existing client base is the easiest and cheapest way to dramatically increase your sales and revenue. A study published by marketing consultants Bain & Co found that a 5% increase in focus on customer retention can result in a 25-95% increase in annual revenue.
6. Promote Contests and Giveaways
Text messaging is a great channel to inform your clients about any contests and giveways you may be running and to boost interest and engagement.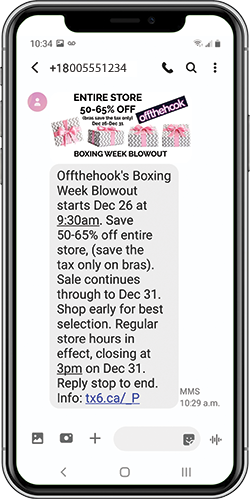 7. Answer Questions & Provide Support
Because it's easy to initiate a conversations by text, a growing number of customers would prefer businesses support them with text messaging, as opposed to email or voice calls.
With the right platform (like our BROADCASTsms) this is easy to do by responding directly to the clients who respond to your text message campaigns with one to one text chat.
This is a great opportunity to build goodwill, ensure the customer's best interests are being addressed, as well as cross selling or upselling additional products or services. 
8. Drive Foot or Digital Traffic
Want more foot traffic to your physical location or eyeballs on your online store? 
Text / SMS message marketing is a great tool to get people in the door, whether it's a physical or virtual one.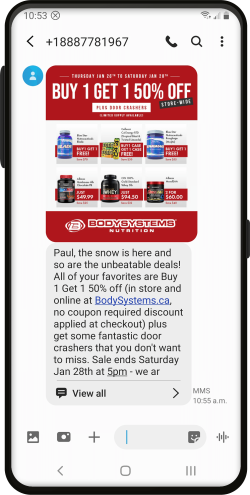 9. Important Updates / Closures
Closing for renovations? Taking an extended vacation? 
Updating your customers of your availability or any disruptions in service is not only courteous, it's another task perfectly suited for text messaging.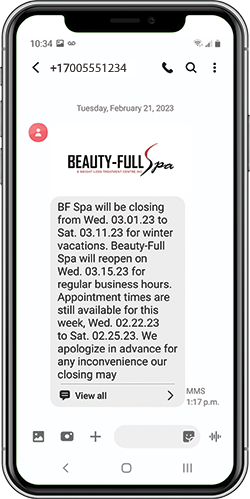 Beauty Full Spa. Beauty, Aesthetics & Weight Loss Clinic. Pickering, Ontario.
Getting Started: How We Can Help!
Too many business owners believe SMS marketing is too expensive and complicated to be used by any but the largest big box stores.
The truth is the complete opposite.
Our BROADCASTsms platform is easy to manage and used by everyone from small, single owner operators to the managers of multi-store chains.
And you can use it too.
We'll help you get set up and put the systems in place to guarantee your success!
Subscriptions start at just $59.99/month!
Book a quick call or a Zoom demo to begin the conversation.
You can also send us an email using the form below or call 877 403 2402.