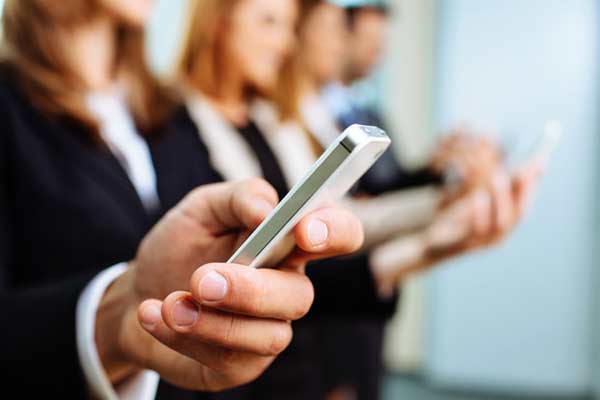 Want great SMS marketing campaigns?
Who doesn't?
To wring the most from your text marketing efforts, you need to execute them properly from the very beginning.
It's important to emphasize too – before we get started – just how valuable it is to be able to deliver a short, powerful marketing message directly to your customers' phones…
99% of text messages are opened and read, most within 3 minutes.
On average only 27% of emails are opened and read.
On average, only 2-6% of your Facebook fans ever see your posts or updates.
… so that you fully recognize the potential that lies in building a large database of contacts.
It's worth the effort, in other words.
That said, executing a high performing sms campaign requires little more than a few minutes of thought and a dash of preparation. Let's get started with 11 tips for your best SMS marketing campaigns…
1. Get 200-500% More Opt-Ins: Use an Incentive.
Incentives make a difference.
A huge one!
Industry studies show that you can obtain between 200-500% more opt-ins if you use one. Here's the deal…
It's not enough to simply ask people to join your mobile marketing list. I'm sorry to say it, but no one cares about you or your stuff.
Nope.
They only care about themselves.
So you need to give them a compelling reason for subscribing.
The most effective way to do this is to offer an incentive in the form of a discount, a freebie or a coupon – something with significant perceived value.
The most common incentive is a coupon for an instant discount – usually for between 10-25% off a follow up purchase.
In general, the more generous or more valuable the incentive is perceived to be, the better you will do.
Think of the incentive as a trade; the permission to market direct to your customer's phones in exchange for something of value.
2. Make Your Incentives Easy to Redeem
Do not ask your customers or prospects to take extra steps in order to access or redeem your incentive.
For example, do not ask them to visit your web site to print off a coupon to bring into your place of business.
This is a barrier to implementation, and entirely unnecessary. Worse, it may leave your customers with a bad taste in their mouths. Make them easy to redeem; ask the subscriber to show the text message upon checkout to get her discount.
Simple.
3. Make the Benefits of Your Program Clear.
For example, take a close look at this call to action…
"To get instant alerts from Mary's Muffins direct to your cell phone, text MUFFINS to…"
Your customer or prospect is thinking… "why should I? What's in it for me?"
There's no defined benefit.
And…
What are "alerts" exactly, as they pertain to a bakery?
Who knows?
On the other hand, this is much better…
"To get 20% off your next purchase and receive the Mary's Muffins DEAL of the WEEK directly on your cell phone, text MUFFINS to…"
Not only is there a strong incentive (who doesn't like a discount?), but the benefit is clear: one deal per week, delivered directly to your cell phone.
For the customer or prospect, it eliminates uncertainty.
This is of critical importance.
If people are uncertain about what's in store for them as subscribers, they won't subscribe.
Bottom line?
Provide clear and compelling benefits to subscribing.
4. Promote, Promote, Promote, and Do It Consistently
It goes without saying that you should draw as much attention to your text messaging program as possible by…
Placing promotional materials in your place(s) of business.
Regularly promoting the benefits of the program on Facebook and other social media platforms.
Highlighting the program in your email newsletter.
Including mobile calls to action in your traditional advertising (print, radio, and T.V.) in order to give prospects the opportunity to take immediate action, and thus improve your Return on Investment from such campaigns.
Most importantly, however, your staffs needs to consistently "upsell" the value of being part of your SMS marketing campaign and draw your customer's attention to it. This should be done in any brick and mortar location you operate. Doing so should become standard practice.
While your promotional materials are important, some people won't notice them – they are exposed to SO many marketing messages that they may not even register. It's your staff's job to call your
customer's attention to the program and highlight the benefits.
5. Hold Employees Accountable for Performance/ Incentivize Your Program
If your business has numerous employees in either a single or multiple locations, a large part of the success of your text marketing program is ensuring every last one of them is doing their job by "upselling" it to your customers.
Part of this is training, of course.
However, Local Text Marketers boasts a specialized module, called the "Employee Incentive and Accountability Module" (EIAM. This module allows you to assign a unique variation of your "textword" (the word your customer's will type into their phones to subscribe to your service) to each of your employees, allowing you to assess the performance of each one.
If you have multiple employees, we highly recommend making use of this module. It comes standard with all Business level subscriptions.
One thing we also recommend is that you use this tool to "incentivize" the program – create an in-house contest where the employee who obtains the most subscribers in a given time period earns some sort of prize or reward. This is a great strategy to build your list, and create some fun, in-house competition.
Tip: Have all your employees subscribe to the program, so they understand and familiar with the subscription process. This will ensure they will be able to answer any questions your customers may have.
6. Feature and Understand the Disclaimer
The standard SMS campaign disclaimer looks like this…
Maximum 4 messages per month. Message and data rates may apply. For help, respond help, to stop, respond stop.
It should be featured in small print on your promotional materials and advertisements. The disclaimer identifies you as a credible and ethical business owner. It's important you use this; this display of transparency will reassure customers and prospects who may feel slightly squeamish about surrendering their cell phone numbers to you. It lets them know that they are in control, and that they can unsubscribe at any time by responding to any message you send with the word STOP to terminate participation in the service.
It's also a demonstration that you are cognizant of their concerns, and have taken steps to address them. It's also critical your staff understands what "message and data rates may apply" means, so they can address it if a customer asks about it.
It does not mean there is a charge to use the service. There is not.
All it means is that any fees applied by the customer's own mobile carrier for the sending and receiving of simple text messages will apply here – like they would for any text message she
receives.
Since almost no one pays for text messages anymore, this is non-issue for most people. However, if it is still something the mobile carriers want to see in text messaging disclaimers.
7. Send Text Messages Regularly, but Be Conservative
It's important to stay in touch with your customers and prospects regularly, so they grow accustomed to receiving text messages from you. The last thing you want to do is build a large
database of contacts and then not connect with them for a few months!
At the same time, we highly recommend you do not overdo it!
People are more sensitive towards what they perceive as spam on this medium and the surest way to go about increasing the number of people who unsubscribe from your service is to send too
many messages.
How often should you contact your subscribers?
It varies from business to business and by your customer's expectations. Nonetheless, almost 85% of subscribers indicated they prefer to receive 2 messages per month from trusted merchants.
This is a very safe messaging frequency.
While you can send more messages if you like (up to one a week at most is what I'd recommend, unless you have very good reason to do so), it's unlikely you'll annoy many customers at this frequency.
8. Keep SMS Messages Clear and Concise.
Your text messages' "call to action" need to be clear and unambiguous.
There's no room to pussy foot around.
Your customer needs to understand, in no uncertain terms, what it is you are offering, and where and when it is they can access it.
9. Keep It Professional.
While some short forms are going to be both familiar and acceptable in your text messages, your communications are still a reflection of your business. And, unless you want your customers to
think your business is run by an illiterate teenager, you will want to limit short forms to only those that are widely accepted.
You may need to get a little creative.
For example…
Good messaging (but long): Sale runs Monday through Friday
Iffy messaging: Sale runs Monday thru Friday (Thru? Really?)
Perfect messaging: Sale runs Mon-Fri (acceptable, common short forms and creative use of "-"to replace "through").
10. Always Deliver Value in Your Campaign Messages.
Every time you prepare to send a text message to your database of subscribers, you need to consider things from their perspective.
The best way to do this is to simply ask a handful of questions…
1. "How would I feel if I received this message?"
2. "Does it offer value?"
3. "What's in it for me?"
If you are not positive this message delivers value, then perhaps you should consider creating a different one or postponing the message until something more worthwhile comes up.
Almost 80% of people who sign up for text notifications do so because they are interested in receiving discounts, coupons and special offers. As a result, you will rarely go wrong sending out such messages.
11. Make Your Messages Accessible to ALL Subscribers.
As many as 30% of people do not yet have smartphones, or cannot access the Internet via their phones. Additionally, others may be on restrictive data plans and may be very selective with their
data and the information they want to access.
It's for this reason that you will want to limit links to your web properties in your text messages.
While it may be unintentional, you are alienating a large percentage of your audience unnecessarily, and reducing the Return on Investment from your mailings. If you must use them, make double sure that those who cannot access your web properties still receive value from the messaging.
It's possible you serve a demographic to whom these statistics do not apply (a young audience, for instance). In this case, you may be able to get away with more linking in your messages.
Tips For Great SMS Marketing Campaigns: A Summary…
Text message marketing is a powerful medium that offers a ton of opportunities to your business because of its near-100% open rate. As such, it's important your promotion and implementation of
this program be well planned and thorough.
To build your list of contacts as quickly and efficiently as possible, use the strategies outlined in this article. And do so consistently. Good luck!
Local Text Marketers is an affordable, "point-and-click" easy service that brings the power of mobile marketing to small-to-medium sized businesses, non-profits and community groups. We offer specialized solutions are available for real estate professionals and owners of service businesses.
Learn more about our services here!