How to Send SMS Text Reminders to Customers in 10 Seconds (or less)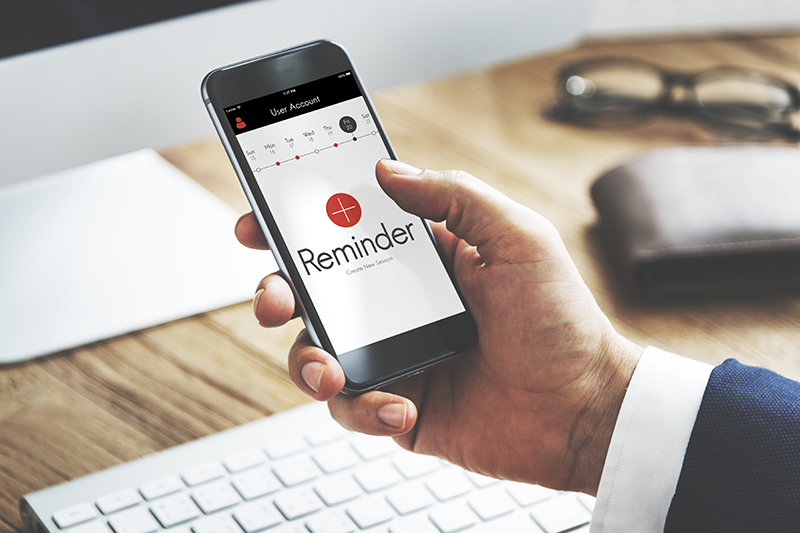 Introduction
In this article, I am going to show you how to send text reminders to customers in 10 seconds or less.
Text reminders have been proven to reduce no shows by anywhere from 50-75% and up so they're a fantastic tool for any service business, regardless of its size.
Most clinical studies validating their effectiveness have been performed in healthcare settings, but the value of reminders is not restricted to just doctors and medical appointments.
This demonstration uses our CONNECTsms software.
Simple, intuitive, and affordable (subscriptions start at just $39.99/month) the software only takes minutes to learn which means that mastering how to send text reminders to customers is a painless process.
There are 7 super-simple steps to send text reminders to customers, let's walk through them …
To gets started, log into the software and select the reminders tab…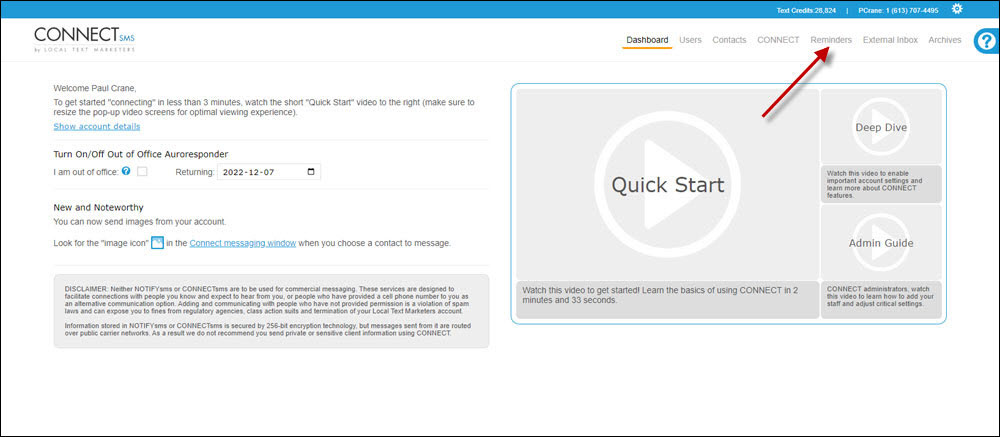 This will bring you to the Reminders module…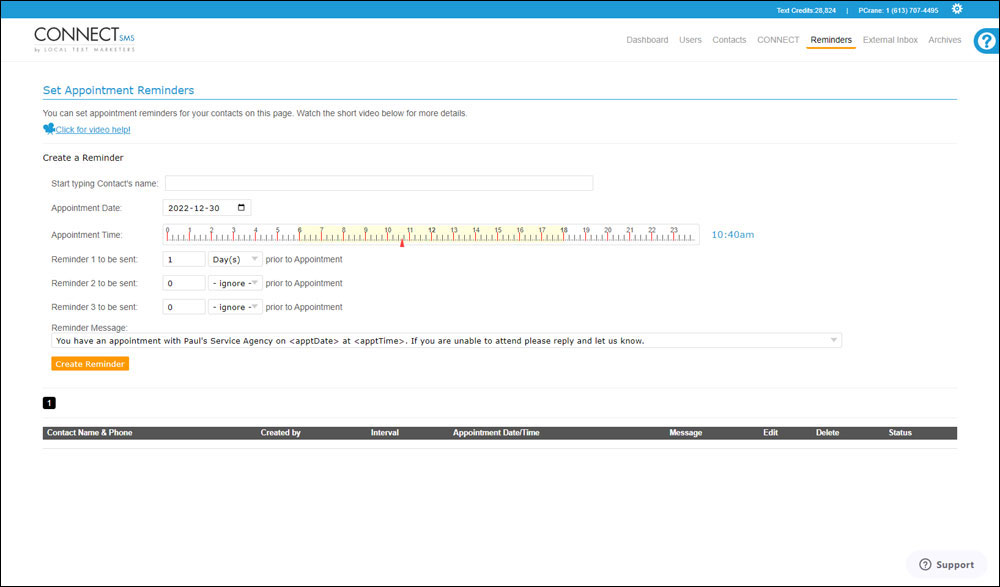 2. Select Your Customer
To begin, type your client's name into the first field. As you type, the software will present you with available options based on the characters you enter.
When the client's name appears, select it from the drop-down menu…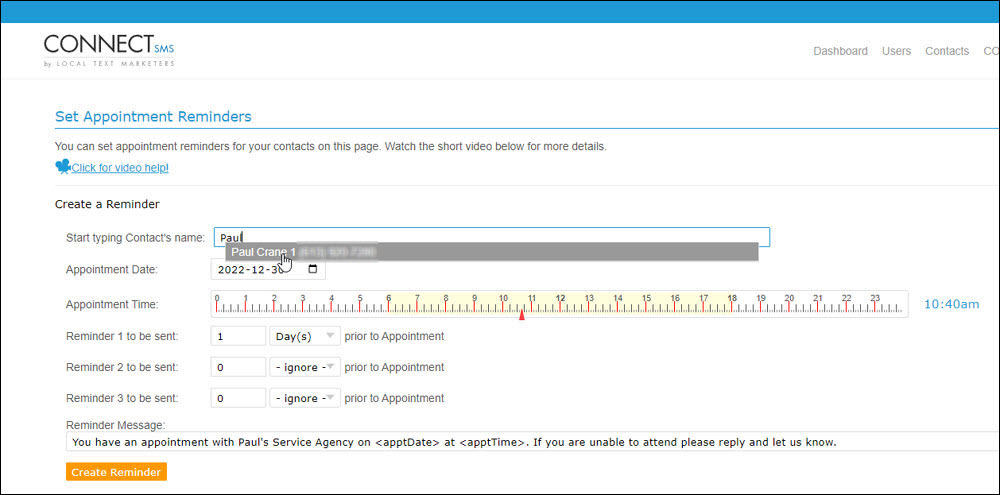 Please note: You will have to add your customer to the CONNECTsms software in order to send them a text reminder message.
Customers can be added manually via the "Contacts" tab, or you can upload a list via a CSV file.
3: Set Appointment Date
Next, you'll select the date of the customer's appointment by clicking into the appointment date field. 
This will bring up a calendar, which you can navigate through to select the appropriate date…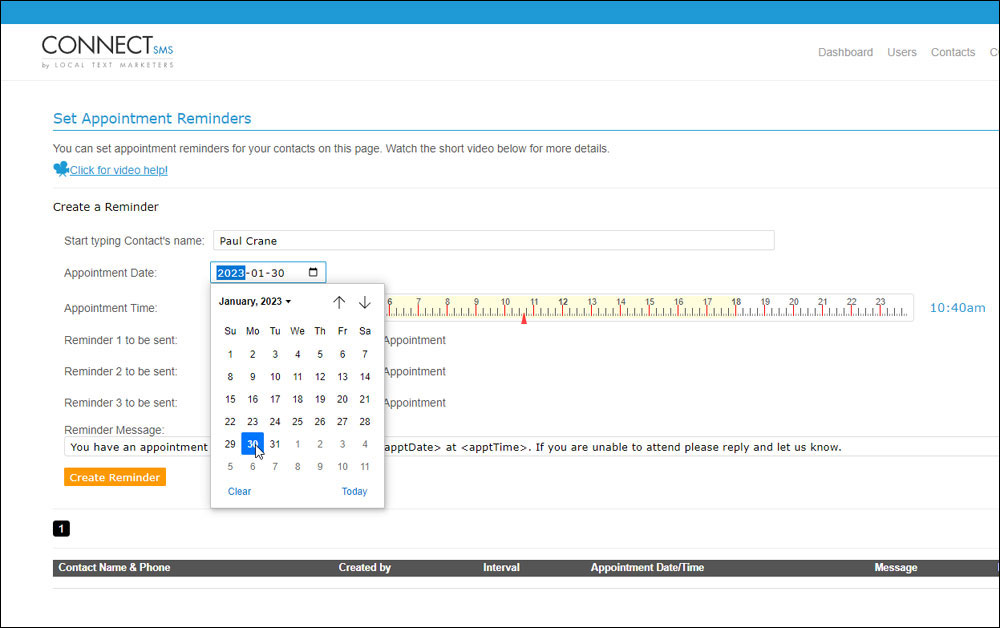 … once you have found the date, click to select it. 
4. Set Appointment Time
Next, you'll set the time of the client's appointment by sliding the "Appointment Time" slider to the right or to the left. 
You can choose up to 15 minute segments…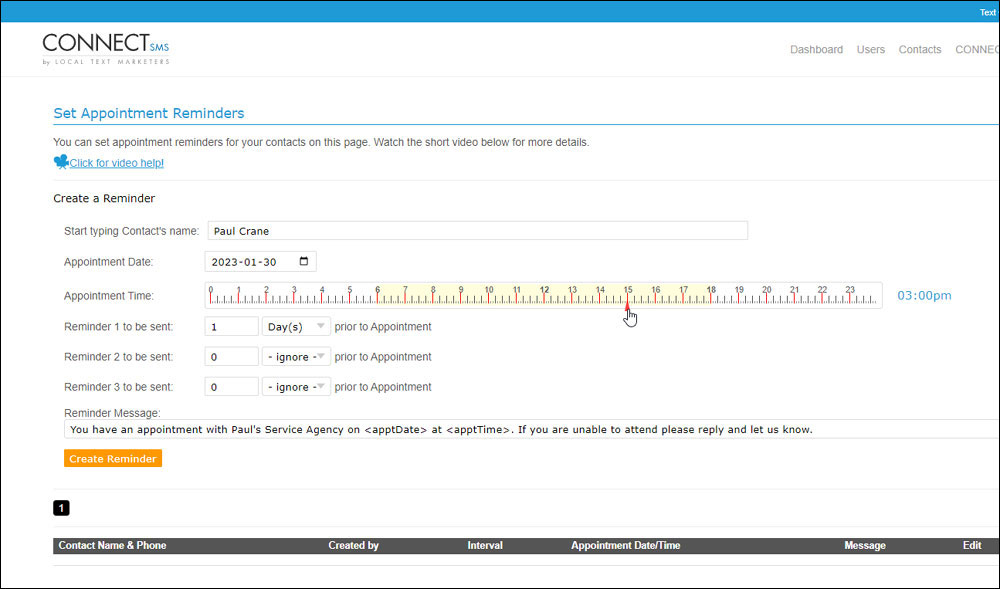 5: Set Reminder Intervals
In this next step, you're going to choose your reminder message intervals, or how far in advance of the appointment you want your text reminders to arrive.
You can choose to send up to 3 reminders for every appointment.
For example, you may want the first reminder to be sent 6 days before the appointment, the second 1 day before and the last 1 hour before…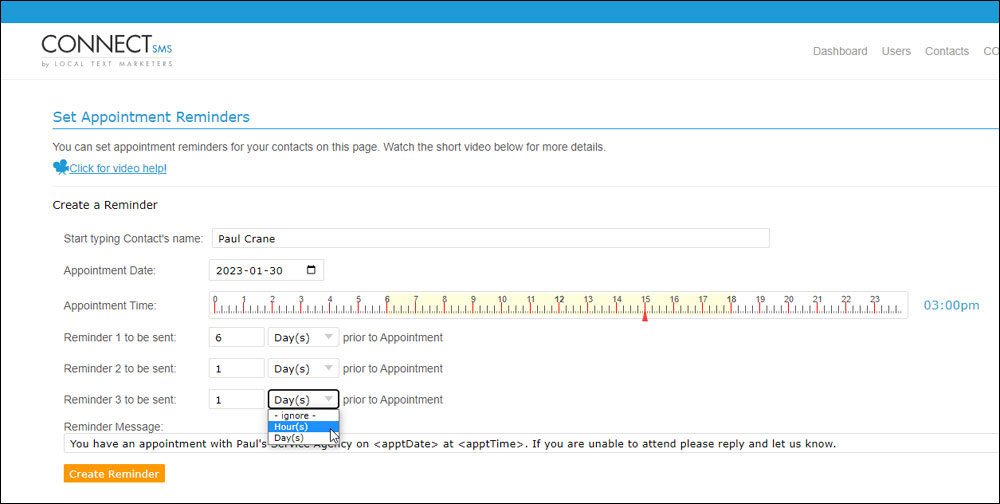 If you only want to send 1 reminder prior to the apointment, set a value for the first reminder and leave the other two at the default, "ignore."
6. Choose Reminder Message
Now that you've done that, you need to select your reminder message. 
This is the message that will be sent to your client at the interval(s) selected. 
Just click into the drop down menu to select one. 
Don't worry if you don't see one that fits – it's easy to have custom reminder messages added to your CONNECTsms account…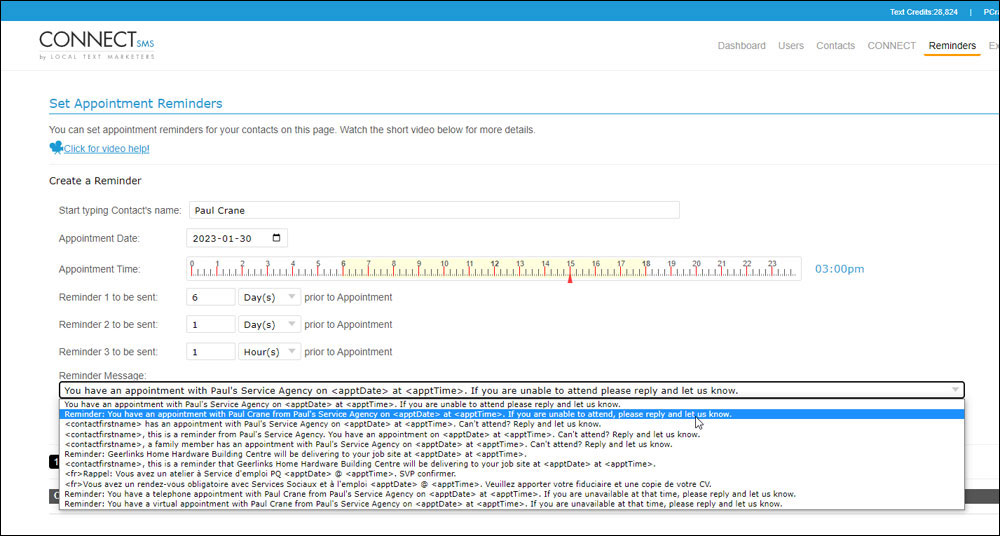 7: Click "Create Reminder."
Only one thing left to do, and that's click the "Create reminder" button…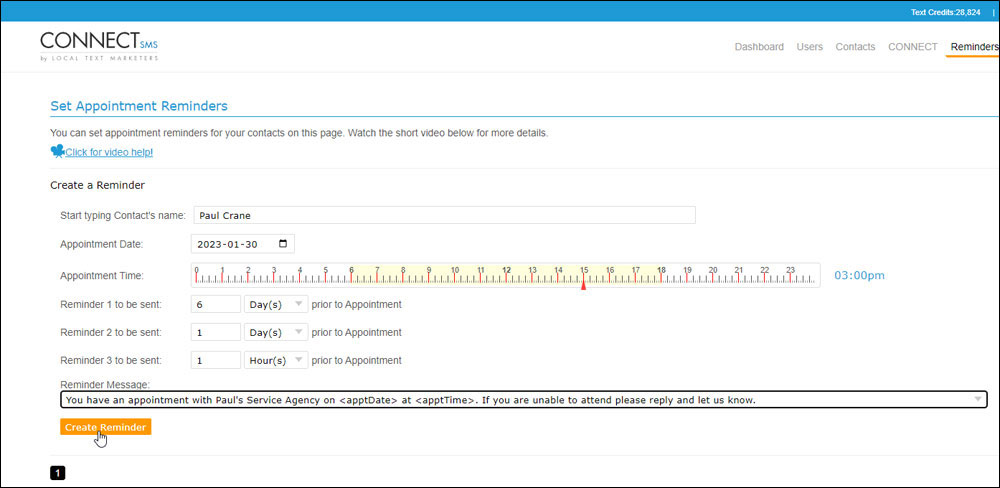 In a moment, you'll see your new reminders queued up in the table below.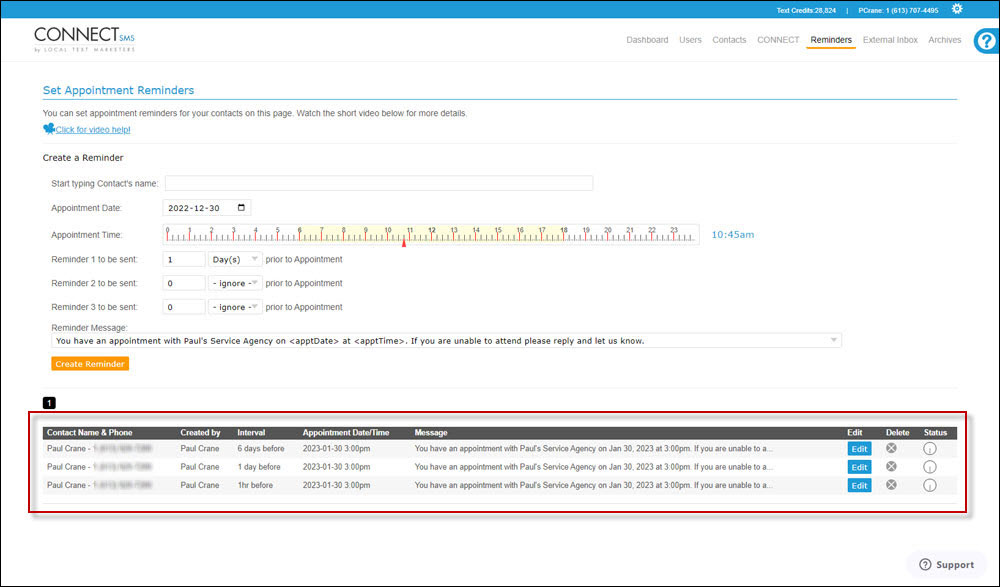 A spinning icon in the Status column indicates this message is "active" and ready to be sent on the selected date. 
Once the message has been send, the spining icon is replaced with a green checkmark.  
You can delete any of the reminders (1, 2 or all 3 of them) by clicking the grey "x" associated with each reminder.
You can also change the appointment date and time for all the reminders associated with an specific appointment by selecting the "edit" button and making changes to any one of them.
And that's it – now you know how to send text reminders to customers.
Now all you have to do is sit back and the system will take care of the rest.
How Reminders Work in CONNECTsms
CONNECTsms is communication software designed to make both your and your customer's life easier.
As a result, the reminders don't exist in a vacuum.
Instead, they become part of a conversation with the client – even if you're not currently chatting with them.
This allows the customer to request changes or cancelations by text message at any time of day or night, which is very convenient for them, as it means they don't need to find the time to call you during regular business hours. 
From your perspective, it allows you to easily and quickly manage cancelation requests, by chatting directly with the client via text, instead of trying to reach them on the phone.  
It also means the appointment reminder becomes part of the conversation record of the client, something that may be valuable if you charge a cancelation fee, for instance.   
Reply "Y" to Confirm? Not So Much.
Most appointment reminder solutions ask the customer to confirm their attendance by replying with the letter "Y" for yes.
According to the dentists we consulted with before building the text reminders feature into CONNECTsms, this causes a LOT of problems.
The issue is that many people do not "reply y" to confirm, but that doesn't mean they are not coming to the appointment.
So when they arrive to find the appointment has been canceled and their time slot given to someone else – after they've booked time off work or arranged a sitter for the kids, they're furious.
The problem is that we've been conditioned to believe that it's a change in the expected result – like the cancelation of the appointment – that requires action.
In other words, I don't call my doctor on Monday to tell her I will be there on Wednesday.
I only call if I can't make it.
Otherwise, the expectation is I will be there.
It's also possible that the customer gets the gist of your message by reading the preview of your message in their message preview screen and never sees the "reply Y" to confirm.
CONNECTsms addresses this issue by requesting that the customer contact you only if they cannot make an appointment – which is entirely in line with their expectations.
 This means there are very few incidences of misunderstanding in your office, which makes life a lot easier for everyone.  
Book a Demo / Free Trial
Now that you know how to send text reminders to customers, you need a solution to make it happen.
Why not check out CONNECTsms?
With subscriptions starting at just $39.99/month, it's affordable enough for every business and organization.  
You can learn more here.
Prefer a quick call to discuss a free trial or perhaps view a Zoom demo? You can book that here.